Sustaining Partners Program & ArtScape FAQs
About the Sustaining Partner Program
You may have noticed that the Art League of Henderson County has been very busy over the last year. Over the past several years we contributed to Henderson County's growing arts community with the opening of two facilities. The Art Place Gallery and the Art Place Studios house two galleries, workshop rooms and artist studios. Our fine art exhibits, events, and classes are expanding, and our membership has grown from about 80 members in 2018 to nearly 400 in 2023. Thousands have participated in our activities and events. Like all arts non-profits, our organization relies on local support in addition to membership fees to be able to deliver these cultural services to our community. When you support the arts, you are enriching the cultural value of your community, stimulating business, driving tourism, and inspiring young minds. As we grow and expand, we need your help to continue to achieve our mission.

We are rolling out our new Sustaining Partners program. This is an opportunity for individuals, businesses, and organizations to support our programs while aligning giving to their interests. A range of funding levels and options include advertising in the Open Studio Tour Guide, (approximately 4,000 guides); the ArtScape Adult and Youth Banner Program (1,000 brochure distribution and Main Street visibility); and the Celebrate Art Juried Program (our first annual has received over 400 visitors in the first week). Sponsorship for our art awards and Judge's Talk VIP reception were sold out. Other options could include acquisition of equipment for our community ceramics studio now underway thanks to a generous grant from the Community Foundation of Henderson County.

Your continuing support and future support help our organization educate our community in the visual arts and provides meaningful experiences for artists to work and display their art. We value your support and ask you to consider becoming one of our Sustaining Partners. Please consider donating from the variety of options and mark your calendar for events and previews designed specifically for you. Our recent Open Studio Tour Preview included the music of violinist Paul McIntire and life drawing by three Art League artists.

Your participation as a Patron will support our mission of stimulating awareness and appreciation of the arts in our community. One of our members will be reaching out to you to discuss the options outlined in the attached materials. In the meantime, please feel free to contact me if you have any questions.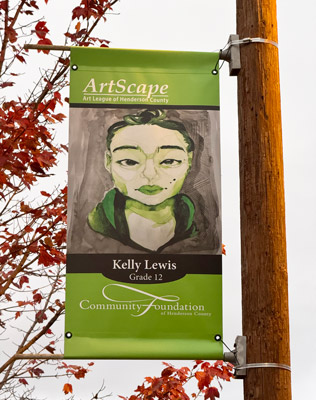 ArtScape Youth Banner
FAQs

Can I pick my banner location?
Banner locations are randomly selected and sponsors cannot choose their banner location.

Can I choose which banner my name goes on?
You can identify up to three artists for your sponsored banner, but it is not guaranteed that the artists you choose will be selected by the juror.
If non of the artists you selected or if you did not select an artists, banner and sponsor matching is random.

Can I sponsor more than one banner?

Yes, you can sponsor up to three banners.

How long are the banners hung?
The banners are up for 12 months.

Where are the banners hung?
For 2024-2025 March - March - the Adult banners will be hung in downtown Hendersonville on Main and the side Avenues. The youth banners are hung in Jackson Park.